Since launching our new aloe vera products earlier this year, we've gone the extra mile to ensure that they're not only 100% pure and organic, but absolutely plastic-free too.
What's important to us?
Our Farm
At Aloeolé we care about every part of the process. From every leaf to every envelope, it's all thought about. We grow our organically certified aloe vera plants in our family-run farm in Cadiz, Spain. We provide the perfect environment for them to grow and our workers to work, ensuring that the natural aloe vera gel, oil and juice is the highest quality it can be. At no point do we add anything extra. No artificial perfumes and no irritating alcohols. Just the purest aloe vera products to nourish your skin and give you an extra boost from the inside.
The Packaging
At the heart of our skincare range and juices is something so natural, which makes it impossible for us to ignore the natural world in the rest of what we do. Our plants depend on sunny Spain, rich soils and the organic environment we create. So why would we stop caring when we harvest the plant? Well, we don't. All our products are totally plastic-free. Our pure aloe vera gel comes in an aluminium pot – perfect to be reused at home when you're done, or easily recycled. Our juices and oil come in beautiful glass bottles that make great vases or containers afterwards and which, too, can be recycled. We wanted to produce sustainable, recyclable and reusable containers that match the high quality products within.
Buying From Us
It's not only our products that are plastic-free, but everything that comes with them too. If you buy from our online shop, you'll receive your package in recycled cardboard and paper, knowing that you're doing your little extra bit for the environment by avoiding non-biodegradable alternatives. If you buy our aloe vera products from our stall, you'll get them in a recycled paper bag, perfect for reusing and gifts!
Plastic-free Aloe Vera Oil
Not all of our aloe vera products turned out to be as easy to make plastic-free as others. We knew our gels would work really well in an aluminium pot because they don't need any form of dispenser. They can easily be applied to the face and body by hand. We also knew that both our juices could easily be poured and consumed from a glass bottle. But our oil was a bit trickier, and let's be honest, a bit messier. Of course, you can pour oil, but getting just the right amount onto your hand and getting it from there to your body is difficult. It normally results in a quick slapping movement that isn't all together relaxing or great for your skin. You're left with excess oil and, quite often, some on the floor too. We needed something different.
Our Solution: a cork dispenser
Trying to find a plastic-free nozzle or dropper was proving nearly impossible. But, after testing various materials and ideas, we came up with our unique cork dispenser – the perfect fit. Cork is one of the most eco-friendly materials going. It's renewable, biodegradable and the eco footprint of its extraction is low. The material is taken from the bark of the cork oak tree, so no need for chopping any trees down either! It's also really important for biodiversity in Europe – especially Spain and Portugal. Bonus!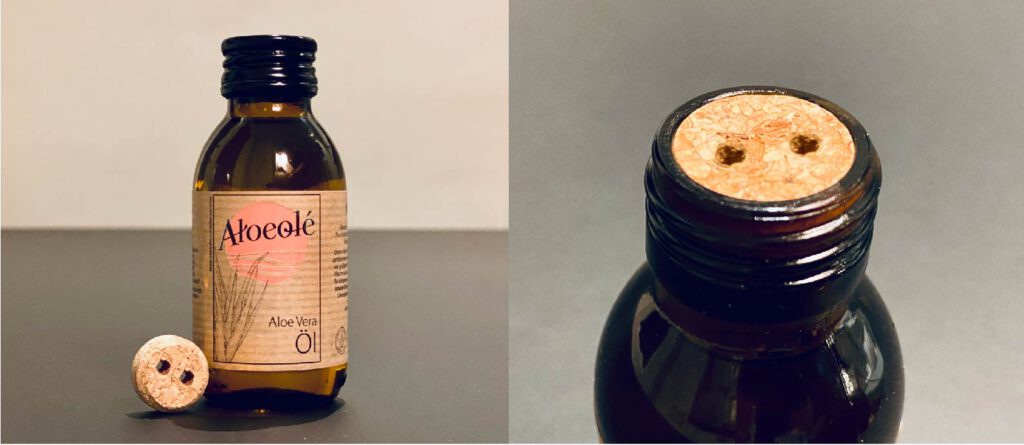 As well as being good for our natural world, it's the perfect material for our oil. It's durable, absorbs well and keeps your bottle nice and tidy. The two holes in the middle make it super easy to pour the exact amount you want. This ensures there is no waste and you get the most out of your product. With every purchase of our Aloeolé oil, you get a free cork stopper. It comes in a little recycled bag and is really easy to insert in your bottle. Every time you apply, you get exactly how much you want, where you want.
By choosing our aloe vera products you're not only getting amazing quality, you're also doing something amazing for the environment. How great is that? We're completely committed to ensuring our products stay pure, natural, organic and absolutely plastic-free.
Have a look at our products here, and get doing something good for your skin and our natural world!
If you'd like to know more about what we do and the benefits of aloe vera, follow us on Instagram @aloeole_official!